Flash (Kuai Kuai) Noodles | Recipe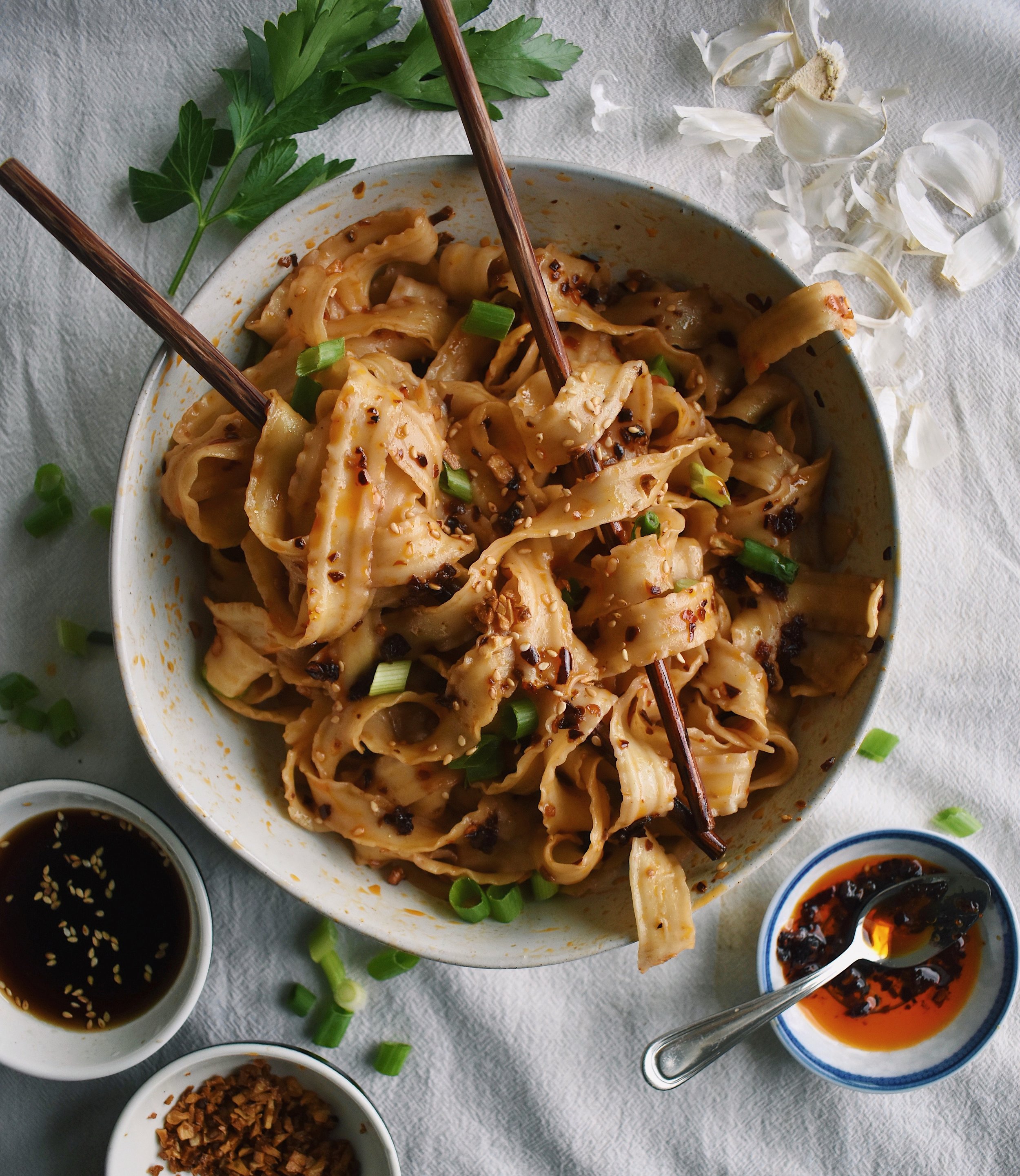 J and I both come from restaurant families— so at the end of a long day, you know the 'rents were cooking something quick, easy, & delicious like these kuai kuai noodles (flash noods) with all the good stuff.
These noodles take about 10 minutes or less depending on what meat you add to these babies.
1/4 bag (approx. 1 handful) of Shanxi Planed (aka 'Biangbiang') noodles (but really you can sub with any type of dried noodles for this recipe)
5 cloves garlic
1/4 white onion (sliced into long strips)
3 stalks scallion (sliced into long strips)
Chinese black rice vinegar (Chinkiang Vinegar is our brand of choice)
Soy sauce
Chili oil (Chiu Chow is the sheeeyit)
Spicy bean paste
Sesame oil
Meat of choice (optional)
4 tbsp neutral oil
Any of the Asian ingredients can be found at your local Asian grocery store. Or, you could try to buy them directly from your favorite Chinese restaurant. Just work out a deal with the manager. Tell them that Nom Life sent you. They'll have no idea what you're talking about; at this point, just flash them a $20 and everything will work out.
First, you gosta make the fried garlic (aka the "secret of life"). Finely mince the garlic cloves. Heat 4 tbsp of neutral oil on medium heat. Once the oil is bubbling, add your minced garlic cloves. Watch this like a hawk! The garlic fries super quickly and it's disappointing when all your minced garlic gets burned. It should be a about 30 seconds until your garlic begins to brown, you'll want to remove it as soon as it is a nice golden brown color. You can turn also off the heat once the garlic starts to change colors and the let it sit in the oil until golden brown. This method is easier to make sure you don't burn the garlic, the oil will continue to cook it even with the heat turned off. Drain the garlic through a sieve to drain any excess oil, then put it to the side.
Boil the noodles for about 6-8 minutes (or your desired firmness level). When it's done, drain the excess water and put it to the side.
Now it's time to get saucy. In a medium bowl, combine 1/2 tbsp black rice vinegar, 2 tbsp soy sauce, 1 tbsp chili oil, 1 tbsp spicy bean paste and 1 tbsp sesame oil. Stir dat shit up!
In a pan, heat up 2 tbsp of oil over medium-high heat. Toss the onion, scallion and some fired garlic in and saute for 1 1/2 min. (If you decided to add meat to this dish, toss the meat into the pan and cook along with the veg)
Finally, add the noodles and sauce into the pan and give everything a quick saute. Make sure that the sauce is evenly distributed into the noodles.
Pour the noodles onto a plate and serve hot and spicy.
Marvel at all the time you just saved on making dinner? Maybe you can use that time to take up a new hobby. We hear that stamp collecting is pretty fun.
x,
Ewa