Taiwanese Minced Pork Rice (滷肉饭) | Recipe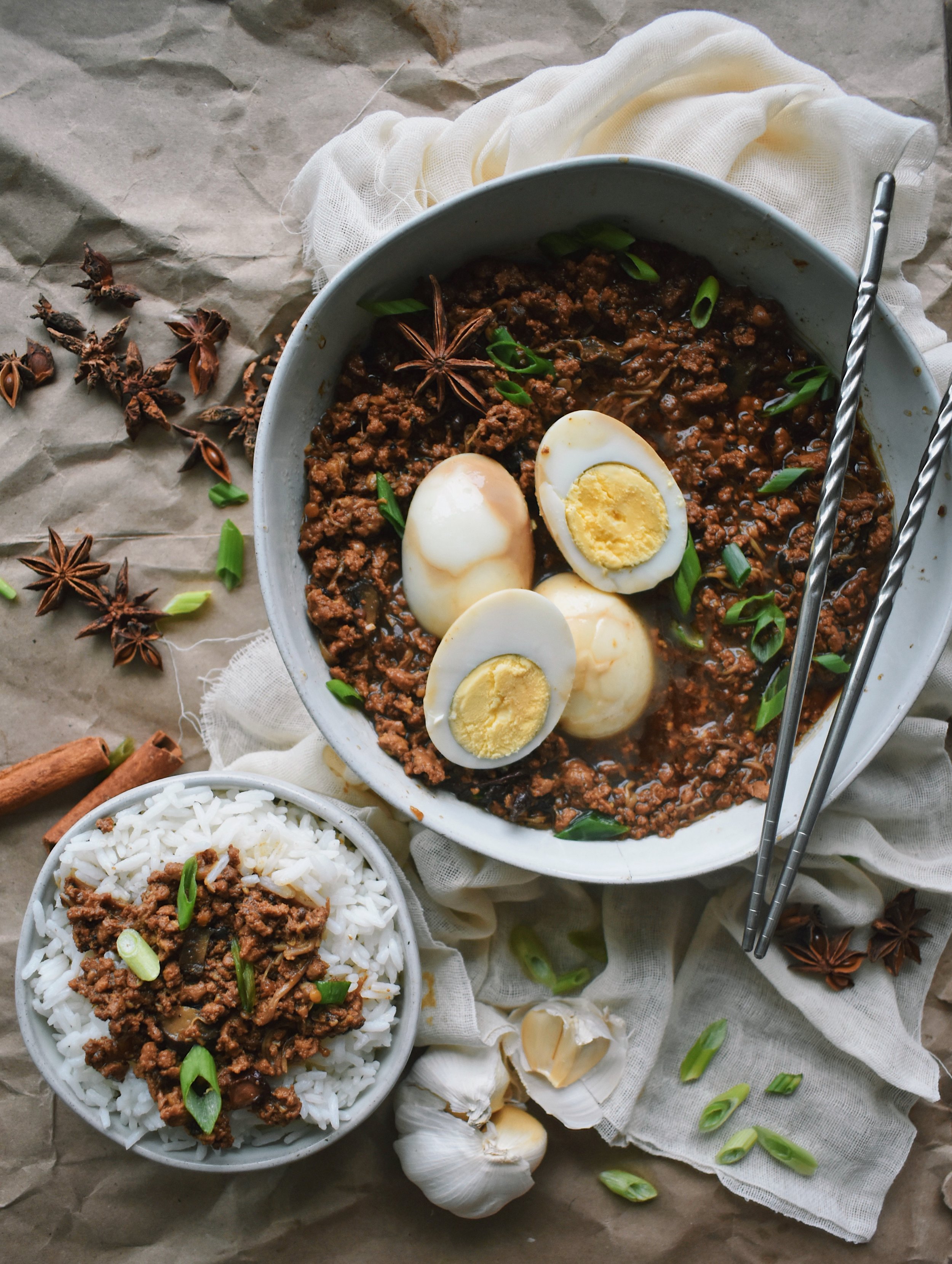 The first thing my brother made when he moved in with us for a month was Taiwanese minced pork rice. I hadn't had this dish in foreverrrr, and I instantly was reminded of sitting around my grandmother's tiny dining table in Taiwan with my bajillion cousins (my dad is one of 8). It's a savory, aromatic, hearty dish that is served mostly in rice, but you can throw it on noodles too—-you could even throw it on toast or some shit if you really wanted. It's that good, it's a super easy dish to throw in a wok and simmer on low for an hour or two.
My grandmother made this all of the time when my father was young because there were 10 mouths to feed and meat could get expensive. Back then you expended the amount the pork could go by braising it in a ton of spices and sauces and adding it on top of rice so everyone would be able to have some to eat. Now it's a Taiwanese staple you find everywhere; street vendors, fancy restaurants, and of course my grandmother's house (can you tell I'm homesick lol). This dish tides me over until I can go back to my gma's kitchen with my bajillion cousins.
This recipe makes a large amount, so you can throw this in a container in the freezer for later!
Ingredients
1 lb ground pork

2 cups water

2 tbsp neutral oil

mushrooms of your choice

1 small or medium sized onion minced

1/3 cup shaoxing wine

4-5 cloves of garlic chopped

2 tsp granulated sugar

4 slices of ginger

1 cinnamon stick

3-4 star anise

3 tbsp soy sauce

2 tbsp dark soy sauce

1/2 tsp five spice

4 eggs

1 scallion chopped for garnish

1/2 tsp black pepper

2 tsp ground Sichuan peppercorns
LOOK AT THE FLICK OF THE WRIST
Heat up a wok to medium heat with the neutral oil, add your onions and stir fry for a minute or so.

Add garlic to the oil and cook for an additional 30 seconds. Then add your mushrooms and stir fry for an additional minute or two.

Add minced pork and separate the pork in the pan to spread it out.

Add dark soy sauce and mix everything together into the wok for about 3-4 minutes.

Add your sliced ginger, star anise, sugar, five spice, water, shaoxing wine, cinnamon stick, soy sauce, peeled hard-boiled eggs. Cover and simmer on low for an hour and a half to two hours.

Your sauce should be thick by this point, if it's not you can increase the heat to medium to reduce the sauce.

Serve over rice and top with scallions!